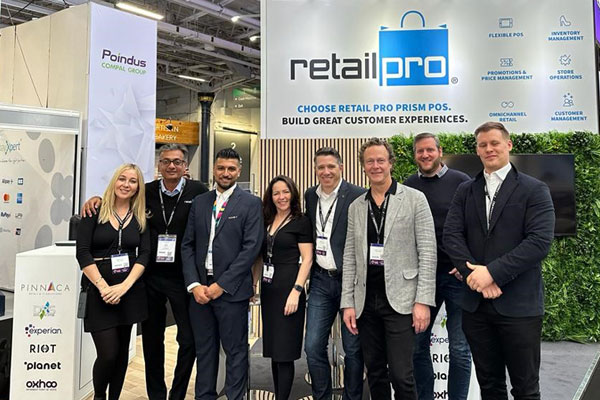 26 April, 2023, London, UK - Today at the 2023 Retail Technology Show, Retail Pro International, developer of the worldclass POS and retail management platform, Retail Pro Prism, is joined by partners Pinnaca Retail & IT Solutions, DataScan Retail Solutions, RIOT, Experian Data Quality, Oxhoo, and Planet at stand 6B18 to present their revolutionary self-checkout POS and RFID solution for streamlined, data-driven in-store experiences.
Retail Pro International VP of Product Management, Kevin Connor, said, "Retail Pro Prism empowers retailers to get creative with their technology. The platform's UI is entirely customisable, so retailers can adapt it for clienteling and even for self-checkout, depending on how hands-on they want their store experience to be. The platform's ability to integrate seamlessly with any retail application also gives retailers immense power to amplify the efficiencies gained by each software in a unified approach to their retail tech strategy."
This year's technology showcase at the Retail Pro stand is a prime example of this integrated synergy. Visitors to the stand can test the self-directed checkout experience with Retail Pro Prism on an innovative Oxhoo POS terminal and integrated with the RIOT RFID well reader solution. A shopper need only to place their items in the RFID-enabled well reader, and all items are quickly and accurately added to the transaction in Retail Pro Prism, which they can easily complete on the fast and intuitive Retail Pro Prism platform – shaving off time spent in the queue and giving customers greater control over their own shopping experience. Integrated omnichannel payments through Planet give shoppers ultimate flexibility in how they pay for their merchandise.
For store experiences that include loyalty programmes and options like ship-from-store, address verification from Experian Data Quality is critical to ensure retailers collect accurate customer information to send the shopper's purchase where it needs to go. Integrated at the store level with Retail Pro Prism POS, the tools work together to improve data management for use in retailers' loyalty and marketing programmes.
"Retail Pro Prism gives retailers a near-real time, centralised view of their retail data across the entire organisation, so they can optimise store experiences from both the customer engagement and store operations angles. With clear visibility into their transaction, customer, inventory, and other retail data, retailers can spot and resolve the bottlenecks and operational inefficiencies that cause tension in their store experience," said Retail Pro International VP EMEAA, Bevin Manian. "In the UK, customer interest in physical stores is experiencing a post-pandemic uptick, even against the backdrop of variable market realities shaped by the general region's current political climate. To meet the in-store demand and offer better store experiences that draw shoppers in, retailers are reevaluating the technologies they are using to build out their strategy, optimise resource allocation, and effectively manage costs."
Retailers are invited to visit stand 6B18 at the 2023 Retail Technology Show on 26-27 April 2023 to start the conversation on their retail experience goals and how the Retail Pro Prism technology can set a solid foundation for building out their strategy.
###
About Retail Pro International
Retail Pro International is a global leader in retail management software that is recognised world-wide for rich functionality, multi-national capabilities, and unparalleled flexibility, and has been named top POS for mid-market retail by IHL Group. For 35 years, RPI has innovated retail software solutions to help retailers optimise business operations and have more time to focus on what really matters – cultivating customer engagement and capitalising on retail's trends. Today, Retail Pro software powers unified commerce strategy for retailers in 130 countries with full POS, replenishment, inventory, promotions, and customer management functionalities available on any mobile or desktop Android, IOS, and Windows devices.
About DataScan Retail Solutions
Founded in 2003, DataScan Retail Solutions, an Authorised Retail Pro Business Partner, has always been a Technology Company, not a sales company, and that Solution first, Sales second philosophy has always been and remains their main ethos. 20 years on, DataScan still remain true to those core values. Their much-repeated strap line is "SMALL ENOUGH TO CARE, BIG ENOUGH TO COPE." With a wealth of IT knowledge combined with Retail Expertise, DataScan are all about allowing businesses to focus on what truly is important to improving and driving the business whilst they deal with retailers' hardware and software issues.
About Experian Data Quality
Experian Data Quality equips retailers with powerful tools to enhance the accuracy, consistency, and completeness of their customer data. This enables retailers to personalise customer experiences, reduce operational costs, and mitigate risk. By complying with regulatory requirements and avoiding costly errors, such as incorrect shipping addresses and duplicate records, retailers can improve customer satisfaction and loyalty while enhancing their bottom line. Experian Data Quality empowers retailers to make data-driven decisions with confidence, optimising business performance in an increasingly competitive marketplace.
About Pinnaca Retail & IT Solutions
More than fifty leading retail brands partner with Pinnaca Retail & IT Solutions, based in London and Paris, for their Retail Pro Prism POS and IT provision. That's over five hundred stores, and one thousand tills supported globally. Pinnaca's experience in retail incorporates software, hardware, and equipment and helps retailers overcome challenges before they cause headaches. Retailers trust Pinnaca to integrate and support Retail Pro Prism across their retail estate. Managing every project with precision, Pinnaca takes the pain out of onboarding and IT support.
About Planet
Planet provides integrated omnichannel payment solutions for its customers in the Retail and Hospitality sectors. Planet enable merchants to accept over 50 different payment methods in 120 markets, across all their sales channels, on a single payment platform. Planet provide additional value-added services in one place, including Tax Free processing and Dynamic Currency Conversion, allowing retailers to maximise revenue on their sales. Founded over 35 years ago, Planet are now a 2,500-person strong business, headquartered in London and located across six continents, and have evolved their services to deliver an innovative digital commerce platform that puts customer experience first.
About OXHOO
Oxhoo are designers and manufacturer of innovative POS Terminals. OXHOO develop unique POS solutions, offering the latest technologies within contemporary designs, a complete range to complement both POS and Kiosk market sectors.
About RIOT
RIOT is a cutting-edge RFID inventory management solution that helps fashion retailers keep track of their stock in real time. RIOT is the trusted solution for Retail Pro users globally, with a revolutionary plug-and-play system that seamlessly integrates with Retail Pro. Retailers can be up and running with full RFID in less than an hour. With RIOT, retailers can count inventory in minutes, not days, and get instant visibility into stock levels. This allows retailers to make data-driven decisions to ensure that they always have the right product available at the right time. RIOT technology also helps fashion retailers unlock their omnichannel potential, resulting in seamless customer shopping experiences. With RIOT, retailers have more time, less waste, and bigger profits.