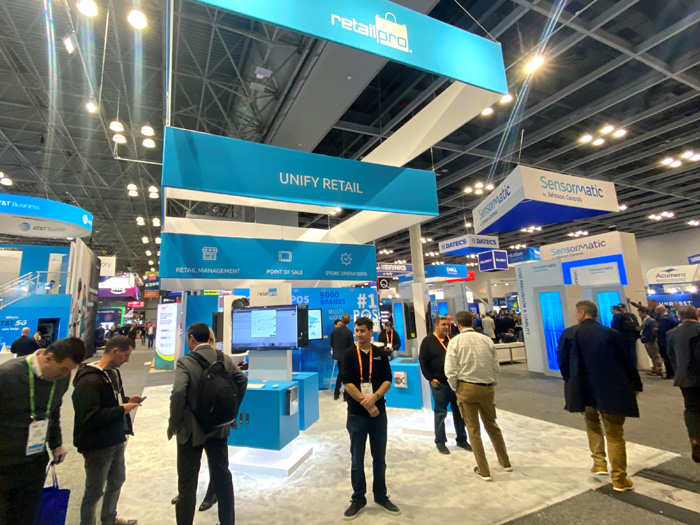 January 16, 2023, New York, NY – Today at NRF's Big Show, Retail Pro International, developer of the flexible and international point of sale platform, Retail Pro Prism, together with their partners RIOT RFID and OptCulture Marketing, is showing how their solution helps retailers resolve the operational inefficiencies causing tensions in their customer experience.
"Since 2020, retailers worldwide have had to adapt operations to deliver products to customers in creative ways, and they've learned a lot in the process. Now it's time to apply those learnings and iron out the inefficiencies that are keeping them from rebuilding customer relationships," said Retail Pro International CEO, Kerry Lemos. "Retail Pro was named Top POS for midmarket retail by the IHL group, and our customers across 130 countries will attest to the flexibility and control they gain from using Retail Pro for their store operations. Having a global POS means retailers can capitalize on their learnings from the past three years to expand their physical store footprint to the markets they've entered digitally, with the confidence that they have an experienced partner for retail technology."
"Retail Pro Prism is the foundation for a retailer's view of their data across regions and subsidiaries, helping them spot bottlenecks and opportunities in their inventory strategy and gain valuable insight about what their customers need," commented Retail Pro International VP of Product Management, Kevin Connor. "As digital operations increasingly overlap with core retail operations in the store for options like Click and Collect and store fulfillment, retailers need more accuracy and flexibility from their technology. That's where the Retail Pro Prism platform comes in."
With Retail Pro Prism, retailers can serve customer needs better by:
Reducing friction in purchase experiences with the ability to see and resolve bottlenecks
Identifying areas where automated functions can increase efficiency and reduce human error
Strategizing and uncovering ways to re-direct a process for better store experiences
Automating replenishment to ensure customers don't experience stockouts
In addition to the efficiencies gained in building core retail operations on Retail Pro Prism, retailers can integrate other retail technologies with the Retail Pro Prism platform for a holistic view of their data that will help them understand and respond to customer needs.
"RIOT RFID for Retail Pro helps retailers improve stock accuracy, so they always have what the customer wants. Many retailers still only do a physical inventory count once a year – because the time cost of doing so is immense. In the meantime, retailers are losing customer trust and money all year due to stockouts, shrink, online returns, and other factors that cause inaccurate inventory and losses," explained RIOT CEO, Darren Williams. "Using RIOT RFID for Retail Pro, retailers can complete inventory counts for sections or entire stores within minutes and course correct as needed. This is especially important as brands merge more of their digital operations with physical store operations for omnichannel retail."
With tools in place to address operational inefficiencies, retailers must also rebuild relationships through a proactive communications strategy, and are aided in so doing through OptCulture Marketing for Retail Pro.
"OptCulture Marketing for Retail Pro empowers retailers to keep investing in customer relationships with meaningful offers and rewards for shopper loyalty. The wealth of transaction data in Retail Pro helps retailers create customer segments based on their needs, interests with a retailer's brand, shopping frequency, and many other factors for tailored, relevant communications to entice customers to a retailer's stores more often," explained OptCulture Director of Operations, Benji Gault.
Retailers are invited to visit the Retail Pro booth (#6203) at NRF 2023 on January 15 – 17 to discuss their operational needs and see how the Retail Pro Prism solution can help them rebuild customer relationships.
###
About Retail Pro International
Retail Pro International is a global leader in retail management software that is recognized world-wide for rich functionality, multi-national capabilities, and unparalleled flexibility, and has been named top POS for mid-market retail by IHL Group. For 35 years, RPI has innovated retail software solutions to help retailers optimize business operations and have more time to focus on what really matters – cultivating customer engagement and capitalizing on retail's trends. Today, Retail Pro software powers unified commerce strategy for retailers in 130 countries with full POS, replenishment, inventory, promotions, and customer management functionalities available on any mobile or desktop Android, IOS, and Windows devices.
About RIOT
RIOT is the developer of RIOT Insight, the industry's first turnkey RFID inventory system, and is now Retail Pro International's official RFID partner with RIOT for Retail Pro. Leveraged in over 4000 stores in 32 countries, RIOT for Retail Pro dramatically decreases the time required to count physical inventory in stores, helping retailers quickly achieve 98% inventory accuracy to support online sales and store pickup. For more information, visit www.riotinsight.com.
About OptCulture
OptCulture Marketing for Retail Pro helps specialty retailers improve customer loyalty and engagement with their brand via customizable, omnichannel marketing. Capabilities and features include: Omnichannel loyalty, digital receipts, email & SMS marketing, campaigns & automation, custom promotions, ecommerce purchase data integration, mobile client app for accessing rewards, tablet or kiosk for in-store loyalty signups, analytics, and omnichannel customer data management. For more information, visit www.optculture.com.