FOLSOM, CA (PRWEB) MAY 18, 2016

Retail Pro International, developer of Retail Pro, the flexible retail management platform for specialty retailers, expanded market reach by 15% in the first quarter of 2016, rapidly increasing its worldwide footprint to 127 countries.
Retail Pro International is broadening its reach across every continent concurrently. Newest wins include the following diverse and growing retail economies: Andorra, Anguilla, Antigua and Barbuda, Brunei, Cayman Islands, Czech Republic, Gabon, Haiti, Iraq, Israel, Latvia, Saint Kitts and Nevis, San Marino, St. Barts, Suriname, Syria, Timor-Leste, Trinidad and Tobago, and Ukraine.
This growth marks a 7-year upward trend for the company, as global reach has nearly tripled since 2009, when CEO Kerry Lemos was first appointed. Today, Retail Pro software powers retail on every continent and is rapidly increasing in market saturation.
"With Retail Pro, global brands like Puma, Under Armour, and Pepe Jeans can take their business everywhere there is opportunity and know they will be supported. Strong partnership in the Retail Pro ecosystem simplifies global expansion for retailers," said Lemos.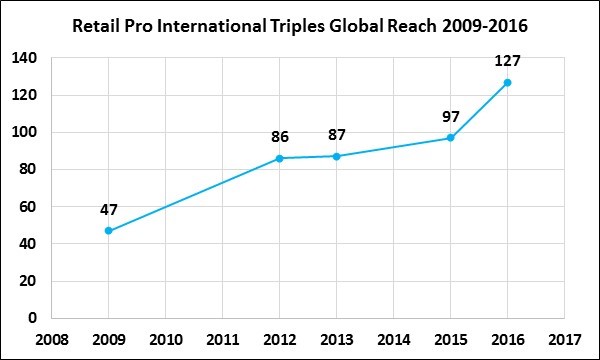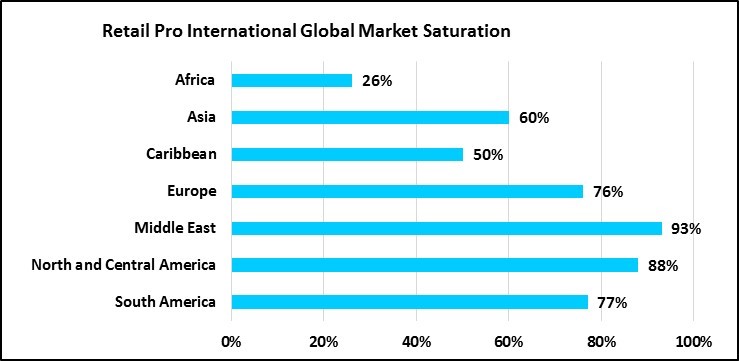 Globally local support for retailers using Retail Pro has been growing as well and includes the latest addition of a Retail Pro value-added distributor in Switzerland.
"The high density of retail in Europe and in tourism-driven islands like St. Barts – and the high concentration of luxury retail therein – creates large demand for powerful retail technology that can both sustain a retailers' complex strategy across all geographies and give flexibility to distinguish your brand," said Alexandra Frith, Retail Pro International Director of Marketing. "We proudly provide retailers with both technology and local expertise to build their omnichannel strategy for incredible customer experiences."
###
About Retail Pro
Retail Pro International (RPI) is a global leader in retail management software that is recognized world-wide for rich functionality, multi-national capabilities, and unparalleled flexibility. For over 25 years, RPI has innovated retail software solutions to help retailers optimize business operations and have more time to focus on what really matters - cultivating customer engagement and capitalizing on retail's trends. Retail Pro is the chosen software platform for omni-channel strategy by retailers in 127 countries. To learn more, visit http://www.retailpro.com